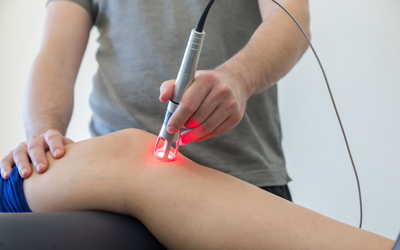 Laser therapy, commonly known as cold laser therapy or even low-level laser therapy is a recent technology solution that can heal the wounds with effective results. In fact, laser therapy is the best alternative for various kinds of pain, mostly associated with knee and eve helps in repairing tissues damaged due to some injuries, arthritis, or even some other diseases. The light energy from the laser directly reduces the pain, inflammation, stimulates nerve regeneration, and helps to relax muscles.
What is Laser Therapy?
The laser used in laser therapy is basically small handheld units that don't heat the targeted tissues. Low-level laser therapy emits low levels of light which are absorbed by mitochondria and thereby heals the surrounding tissue. It helps in improving the immunity level and even shows effective results in treating various conditions like- skin conditions, plantar fasciitis, temporomandibular joint disorder, traumatic brain injury, stroke, and injury prevention.
Benefits of Deep Tissue Laser Therapy
Not one, but thousands of people have experienced the true potential of laser therapy and its therapeutic effects. So, here are a few benefits of going for deep tissue laser therapy as listed by WestBram Physiotherapy and Wellness:
Avoids Pain and Inflammation with no side effects
Implementing the process of photobiomodulation, where the photons enter the tissues and further carries out a biological cascade of events and results in a decrease of pain and inflammation. In fact, many people have experienced long-lasting pain relief effects just after a few sessions of deep tissue laser therapy.
Treat acute and chronic conditions
While we treat acute conditions with laser therapy, it shows best effective results when it is treated right away after the injury has occurred. In the case of acute injury, laser therapy will restore the body to the normal functioning quickly. And in chronic conditions, going for laser therapy enables combat regular pain and inflammation and deliver therapeutically relevant dosages.
Customized Treatments
Lasers with large power ranges provide versatile treatment options i.e. a laser that can easily operate from 0.5 W to 25 W and permits great flexibility for treating multiple scenarios and all kind of low and high pains.
Fast Treatment & Effects
Five to ten-minute sessions of laser therapy can result in effective healing with long-lasting pain relief effects. It all depends on the size, depth, and the acuteness of the particular case that is being treated. As the high-power lasers deliver energy in a very minimum time period, it directly helps to attain the required results in minimum time with effective results.
To get laser therapy done from a professional company, get in touch with WestBram Physiotherapy and Wellness now.